CNC Woodturning Lathes - Hapfo 7000-CNC range

Like all the Hapfo woodturning lathes the Hapfo 7000-CNC range are of exceptional build quality. The main advantage with the 7000-CNC range compared to the 5000-CNC is the capacity over the bed, the copying length options, and they are 3-axis machines giving the possibility of producing flutes and twist work with the milling unit.
Hapfo CNC lathes have an optional swivel device (factory fitted) enabling the V cutting tool to cut at 90°, this enables the production of many short parts to be repeated efficiently with the optional four jaw followers or ring follower from a single spindle.
Due to the simple to use 2D MegaCAD software provided with the machine very little training is necessary. PC hardware supplied is mounted on a wheeled stand so that it can be moved easily into a convenient position when turning takes place.
The distance between centre options calculated with a short six-pronged drive centre and short live centre are 1,800mm – 2,900mm or 3,700mm. The copying length calculated with long six prong drive centre and long live centre with four-jaw follower is 1,620mm – 2,720mm – 3,520mm. If the ring follower is employed the length is reduced by a further 120mm.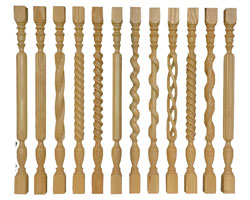 Headstock and machine bed are made from high quality grey cast iron with milled and polished bed.
Headstock spindle bearings have no backlash, the hollow spindle is suitable for vacuum use.
Tailstock in massive grey cast iron with eccentric quick and efficient clamping to the lathe bed.
Production of thin parts with optional follower rest is not difficult to achieve.
The CNC computer control enables rapid changeover from one turning to another by simply changing the drawing in the program.
Drive: 4 kw motor, 400 volts, 3-phase, 50 Hz, infinitely variable speed range from 375 to 2700rpm
Specification

| | |
| --- | --- |
| Model | Hapfo 7000-CNC |
| Max ø over bed | 400mm |
| Distance between centres | 1.8m -2.9m - 3.7m |
| Weight | 1000kg to 1600kg |
| Overall Length | 3.25m - 4.35m - 5.15m |
| Overall W x H | 1.26m x 1.3m |
| Power 400V | 3 phase |
Lathes
03710APCN

CNC Woodturning Lathe Hapfo 7000-CNC

3-axis machine

Distance between centres 1,800 mm, copying length 1,620 mm

Hardened no-wear guideways for X and Y axis. Automatic central lubrication of copying slide, support and ball screw spindle. Includes PC hardware and Cad-software MegaCAD.

3-axis machine with servomotor control for round and grooved profiles, Includes V-Steel holding device, max copy Ø 400 mm. Spindle motor 4 kw. Includes Milling machine 3kw, 0-18000rpm Ø16 mm chuck.

€78,511.01
01710APCN

CNC Woodturning Lathe Hapfo 7000-CNC

3-axis machine

Distance between centres 2,900 mm, copying length 2,720 mm

Hardened no-wear guideways for X and Y axis. Automatic central lubrication of copying slide, support and ball screw spindle. Includes PC hardware and Cad-software MegaCAD.

3-axis machine with servomotor control for round and grooved profiles, Includes V-Steel holding device, max copy Ø 400 mm. Spindle motor 4 kw. Includes Milling machine 3kw, 0-18000rpm Ø16 mm chuck.

€87,696.24
01720APCN

CNC Woodturning Lathe Hapfo 7000-CNC

3-axis machine

Distance between centres 3,700 mm, copying length 3,520 mm

Hardened no-wear guideways for X and Y axis. Automatic central lubrication of copying slide, support and ball screw spindle. Includes PC hardware and Cad-software MegaCAD.

3-axis machine with servomotor control for round and grooved profiles, Includes V-Steel holding device, max copy Ø 400 mm. Spindle motor 4 kw. Includes Milling machine 3kw, 0-18000rpm Ø16 mm chuck.

€98,900.36
all prices exclude VAT
View all woodturning CNC and Copy Lathes