Hapfo 5000-HydroKing Copy Lathes

The 5000-HydroKing two lathe options are aimed at high production with the highest demands on precision turning. The 5000-HydroKing has all the technical advantages characteristic off an efficient copy lathe with proven reliability over many years use in demanding industry.
The 5000-HydroKing is equipped with a hydraulic scanner, to scan templates or the original workpiece saving valuable time making templates. With the addition of the optional four jaw or ring follower's thin turnings can be achieved without any vibration when producing the parts. Accurate fluting and spiralling of turned parts can be achieved with the optional milling unit KFE-5000.
The 5000-HydroKing is a very precise and powerful machine. The headstock, bed and tailstock are made from high quality grey cast iron with milled and polished bed. The drive spindle has a hollow shaft and is suitable for vacuum attachments.
For full details and brochure please contact us.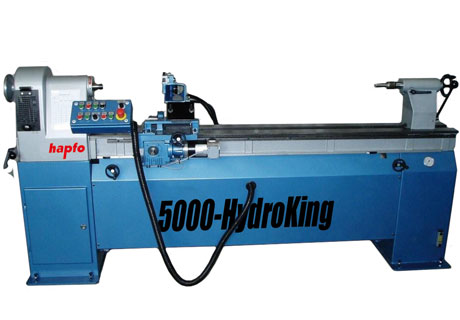 Specification
| | |
| --- | --- |
| Model | Hapfo 5000-HydroKing |
| Max ø over bed | 260mm |
| Weight | 300 to 400 kg depending on model |
| Overall Length | 2550/3450mm |
| Overall W x H | 450mm/ 1230mm |
| Spindle Thread | M33 x 3.5mm |
| Power 400V | 3 phase |
| Speed | 400- 800- 1000- 1250- 1600- 2000- 2500- 3200rpm |
Lathes
01500APHK

Wood-copy Lathe Hapfo 5000-HydroKing

400 Volts, 3 phases, 50 Hz, N, PE

Distance between centres 1700 mm / copying length 1500 mm.

Hydraulic tracing device, motorised advance, includes HSS tool (without Follower rests).

Tailstock 2mt

.

01550APHK

Wood-copy Lathe Hapfo 5000-HydroKing

400 Volts, 3 phases, 50 Hz, N, PE

Distance between centres 2500 mm / copying length 2300 mm.

Hydraulic tracing device, motorised advance, includes HSS tool (without Follower rests).

Tailstock 3mt
all prices exclude VAT