CNC Woodturning Lathes - Hapfo 5000-CNC range

Hapfo are recognised around the world for woodturning lathes of the highest quality, the CNC lathes match this standard in every way. The 5000-CNC range is ideally suited for precise large scale manufacturing. They are powerful machines made from heavy grey cast iron with many years of proven reliability. Hapfo CNC lathes have an additional option of a swivelling cutting tool enabling cuts at 90°
Headstock and machine bed are made from high quality grey cast iron with milled and polished bed.
Headstock spindle bearings have no backlash, the hollow spindle is suitable for vacuum use.
Tailstock in massive grey cast iron with eccentric quick and efficient clamping to the lathe bed.
Production of thin parts with optional follower rest is not difficult to achieve.
The CNC computer control enables rapid changeover from one turning to another by simply changing the drawing in the program.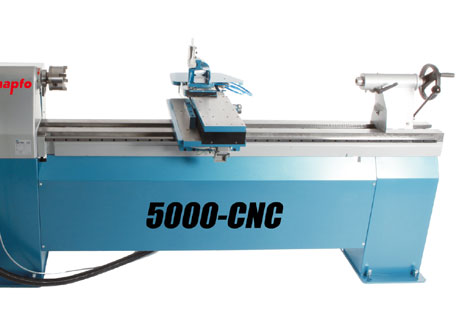 Specification
| | |
| --- | --- |
| Model | Hapfo 5000-CNC |
| Max ø over bed | 250mm |
| Max turning length | 1480mm with 4 jaw follower |
| Weight | 750kg depending on model |
| Overall Length | 2600mm |
| Overall W x H | 700mm x 1230mm |
| Power 400V | 3 phase |
Lathes
01500APCN

CNC Woodturning Lathe Hapfo 5000-CNC

This model is a 2-axis machine
Distance between centres 1600 mm, copying length 1480 mm

With servomotor control to fabricate round profiles, including PC hardware, ready for operation with MegaCAD software supplied. Reinforced tailstock MK 3. Spindle motor pole-changing (= 8 spindle speeds).

400 Volts, 3 phase, 50 Hz, N, PE

03510APCN

CNC Woodturning Lathe Hapfo 5000-CNC

This model is a 2-axis machine
Distance between centres 1600 mm, copying length 1480 mm

With servomotor control and milling machine (2200Watt) mounted on adjustable column for vertical and horizontal milling to fabricate round profiles- fluting and twisted parts.

Including PC hardware, ready for operation with MegaCAD software supplied. Reinforced tailstock MK 3. Spindle motor CNC controlled.

400 Volts, 3 phases, 50 Hz, N, PE
all prices exclude VAT