What is FSC and PEFC certification?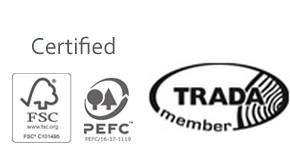 FSC and PEFC certification provides lets you know that the timber product you are about to buy is sustainably sourced, legal and complies with the EU Timber Regulation (EUTR) which came into force on 3rd March 2013.
FSC: The Forest Stewardship Council (FSC) is an international non-profit organisation dedicated to promoting responsible forestry. FSC certifies forests all over the world to ensure they meet the highest environmental and social standards.
Products made with wood and paper from FSC forests are marked with their 'tick tree' logo. When you see this logo, you can be confident that buying it won't mean harming the world's forests http://www.fsc-uk.org/about-fsc.2.htm .
PEFC: Programme for the Endorsement of Forest Certification (PEFC) is an international non-profit, non-governmental organisation dedicated to promoting Sustainable Forest Management through independent third-party certification http://www.pefc.co.uk/ .
Our certification details
We have been certified since 2010 and are the only timber supplier in Cumbria to have received this accreditation.
FSC
PEFC